Ημερίδα: Στατιστική Μοντελοποίηση Επιδημιών
ΔΕΛΤΙΟ ΤΥΠΟΥ
Ημερίδα: Στατιστική Μοντελοποίηση Επιδημιών
Την Παρασκευή, 5 Μαΐου 2023, το Τμήμα Στατιστικής του Οικονομικού Πανεπιστημίου Αθηνών διοργάνωσε Ημερίδα σχετικά με προβλεπτικά μοντέλα επιδημιών, με τίτλο: «Στατιστική μοντελοποίηση επιδημιών» ("Statistical modeling of epidemic outbreaks").
Πρωταρχικός στόχος αυτής της ημερίδας ήταν η προαγωγή της συζήτησης επίκαιρων ερευνητικών θεμάτων που σχετίζονται με τη Στατιστική μοντελοποίηση επιδημιών. Απευθύνονταν σε υπεύθυνους στρατηγικών Δημόσιας Υγείας, Επιδημιολόγους, Στατιστικούς και Επιστήμονες Δεδομένων, καθώς και σε φοιτητές που εργάζονται σε αυτούς τους τομείς.
Η Ημερίδα, που έλαβε χώρα στο Αμφιθέατρο, Κτίριο Τροίας, του Οικονομικού Πανεπιστημίου Αθηνών, ήταν ανοικτή στο κοινό. Συμμετείχαν γνωστοί ερευνητές από τα Πανεπιστήμια: Imperial College London & London School of Hygiene and Tropical Medicine (Marc Baguelin), Οικονομικό Πανεπιστήμιο Αθηνών (Άγγελος Αλεξόπουλος και Λάμπρος Μπουράνης), University of Nottingham (Θεόδωρος Κυπραίος), καθώς και Εθνικό και Καποδιστριακό Πανεπιστήμιο Αθηνών (Βάνα Σύψα), ενώ οι Λάμπρος Μπουράνης (Οικονομικό Πανεπιστήμιο Αθηνών) και Νικόλαος Δεμίρης (Οικονομικό Πανεπιστήμιο Αθηνών) αποτέλεσαν την Οργανωτική/Επιστημονική Επιτροπή της διοργάνωσης.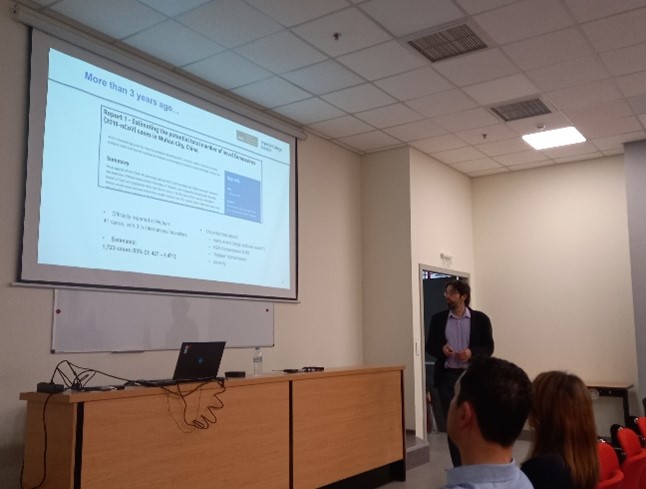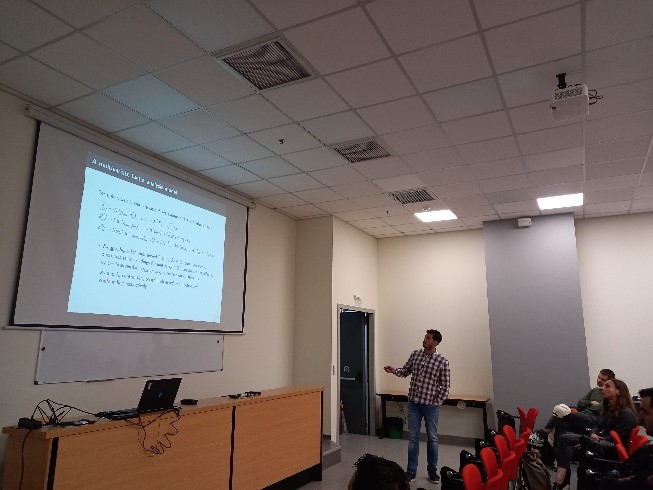 Κατά τη διάρκεια των ομιλιών, συζητήθηκε το πώς συνθέτουμε πληροφορίες και πολλαπλές πηγές δεδομένων επιτήρησης της υγείας, με στόχο την εκτίμηση της μετάδοσης μιας επιδημίας, καθώς και τη λήψη αποφάσεων για την αντιμετώπιση επιδημιών και μολυσματικών ασθενειών όπως η HIV και η COVID-19. Αναλύθηκαν, επίσης, η αξιολόγηση της ανίχνευσης επαφών COVID-19 στην Αγγλία, οι Μπεϋζιανές μη-παραμετρικές μέθοδοι για στοχαστικά επιδημικά μοντέλα, όπως και η Μπεϋζιανή Ανάλυση μοντέλων επιδημίας πολλαπλών τύπων που βασίζονται σε στοχαστικές διαδικασίες, με εφαρμογή στην COVID-19.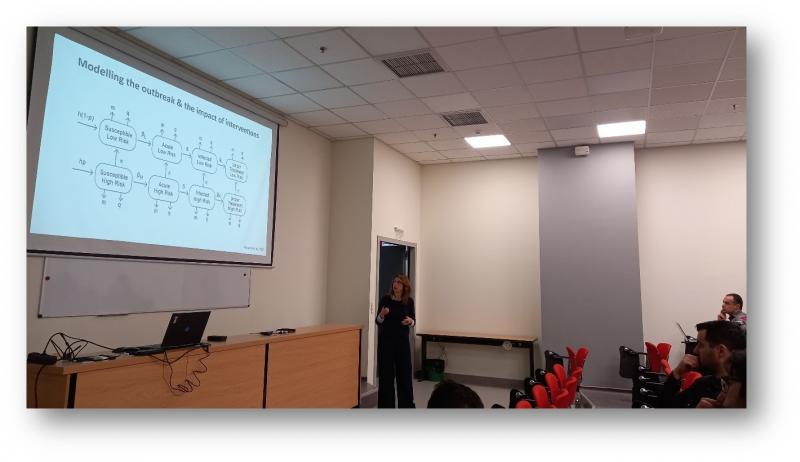 Χρηματοδότηση
Το έργο BERNADETTE έχει λάβει χρηματοδότηση από το πρόγραμμα έρευνας και καινοτομίας Horizon 2020 της Ευρωπαϊκής Ένωσης, στο πλαίσιο της συμφωνίας επιχορήγησης Marie Sklodowska-Curie No 101027218. Για περισσότερες πληροφορίες, επισκεφθείτε την ιστοσελίδα της Κοινοτικής Υπηρεσίας Πληροφοριών για την Έρευνα και Ανάπτυξη της Ευρωπαϊκής Επιτροπής (CORDIS).
Για περισσότερες πληροφορίες σχετικά με την Ημερίδα, παρακαλούμε όπως απευθυνθείτε στην Ιστοσελίδα: https://bernadette-eu.github.io/workshop