MSc in HRM Distinction - Eduniversal Best Masters 2021
12/04/2021
PRESS RELAEASE
8th place in Western Europe for the MSc in HRM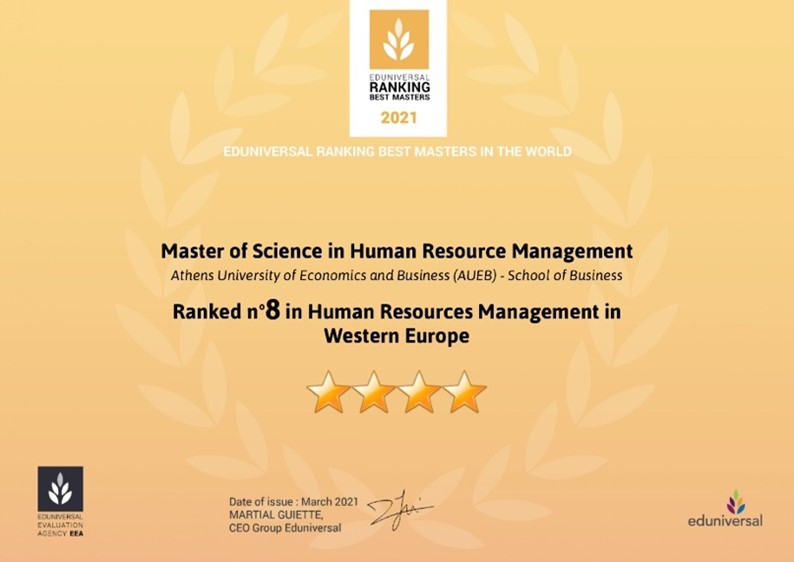 The 8th place in Western Europe in the field of HR, two positions higher than in 2019, won the Interdepartmental Postgraduate Program in Human Resource Management, of Athens University of Economics and Business, according to the authoritative international ranking body "Eduniversal Best Masters Rankings" for 2021. 
The new outstanding performance among the top postgraduate programs in the field of HR in Europe and worldwide, proves the common vision of the Program community for continuous improvement and promotion of the scientific field of Human Resource Management in Greece as underlined by the Program Director, Ioannis Nikolaou «The 8th place in Western Europe occupied by our master's degree highlights and rewards the continuous efforts of the teaching and administrative staff of the program. These efforts could not succeed, nor would they lead to this result, if there was not a large group of active students, graduates and collaborating companies, under the roof of an institution of the range of the Athens University of Economics, where everyone works together with the aim the development and promotion of the HRM branch in our country».
The Eduniversal Best Masters Rankings evaluates the Postgraduate Programs worldwide, taking into account the results of the satisfaction survey conducted by Eduniversal, with basic criteria the reputation of educational institutions in companies, the salary of the first employment after graduation and the satisfaction of students.